Healthcare Recruitment
We are a veteran-owned staff augmentation firm dedicated to providing top notch staffing solutions nationwide.
We're pros at turning challenges into contracts
Our veteran-led team has extensive government & healthcare industry experience, and we are committed to providing solutions that convert challenges into contracts.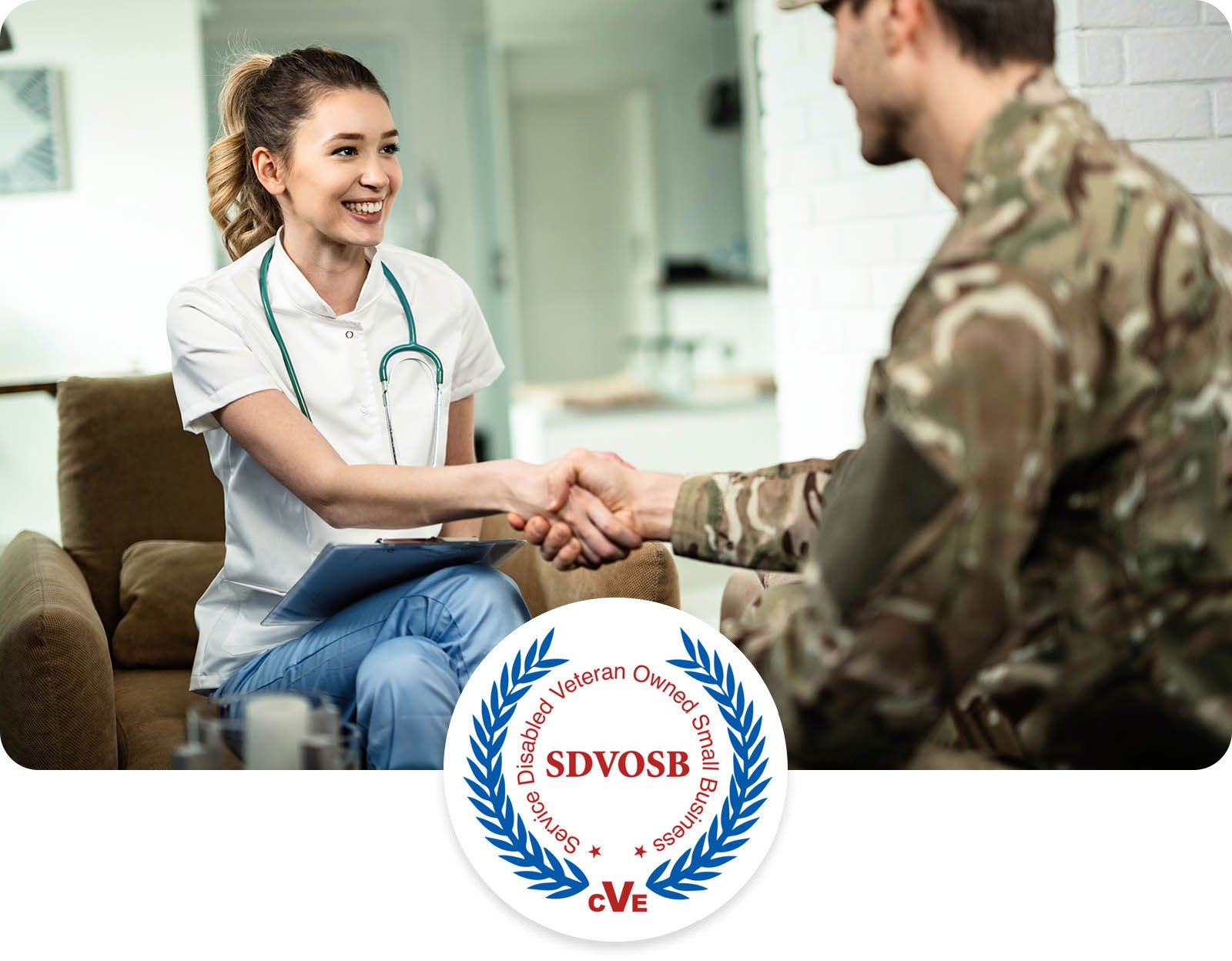 Positions We're Hiring
We're actively recruiting for a wide range of specialties and career paths.
Download our free transition guide!
Learn how to boost your pay, travel more, and work less hours by working at the VA.
"
OnBoarding through the VA can be a tedious, monotonous process, and Jeremy made it much more tolerable. He is a very efficient, helpful person, I would say that nobody would want to have to go through the process of getting on with the VA, but if you do have to do that, working with Jeremy sure was easier.
"
Locums medicine is about freedom. Freedom to work when you want, where you want, and because you enjoy what you do. EGA truly allows you to fulfill these aspirations by offering you the support you need when you need it but also by allowing you to function independently. I have worked for many staffing companies during my time in locums medicine and I can say without a doubt I've felt the most professionally free working for EGA.
"
My recruiter, Jenny, is awesome to work with!! The responsiveness of the whole staff was superb; they are always readily available to answer any questions you may have. They are there to help you through the entire hiring process and made the whole process very easy. Great opportunity if you are trying to get in the federal government!
"
Since the first time this company contacted me, I noted that this is a good place to work for. Very professional, easy to communicate, any question or concern they address you right away. I really felt very supported during the hiring process and throughout my contracts by all of the EGA staff that I've worked with. I would definitely recommend them to any nurse!
"
Great company to work for! Small but mighty company, constantly evolving with benefit offerings. Company strives to utilize employee/client friendly applications and provide flexible schedule. Employees are encouraged to submit feedback to senior management and are included in issue solving process. Very transparent and success oriented place to work!
"
Great environment. Management is great, there is a lot of freedom to work on projects you're interested in. I worked here for a little over a year on the internal side (not as a medical professional) and really liked it.
"
Start up with an endless amount of opportunity within the Vets Admin sector of the Federal government. Rapid growth nationally. Compassionate executive team with a focus on quality services.
"
Long term contracts. The recruiters and staff at the agency are fair and helpful. They really mean well for their contractors and are always there for you if you need them.
"
Great group of people passionate about serving our veterans and their families!
Work With Us
If you're looking for career development, our team can match your skills and objectives to positions with fresh and rewarding challenges. Let's put your career in another gear.