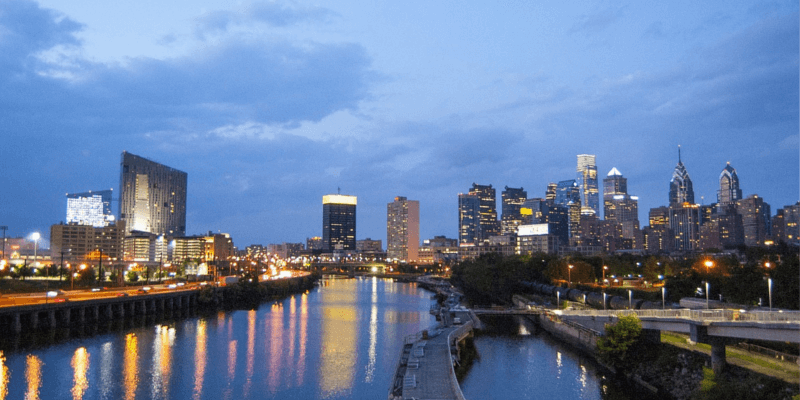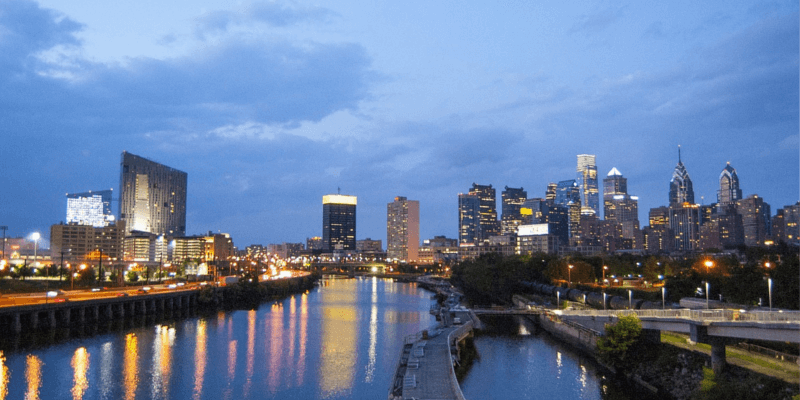 You probably know Philadelphia by its most well-known facts: it was the nation's first capital, it's where the Declaration of Independence and Constitution were drafted, it was the home of Benjamin Franklin, it's the Mecca of pretzels and cheesesteaks, and it's home to some of the world's most infamous sports fans.
Want to know more? Want to find out why Philadelphia is becoming such a popular place for professionals to move to?  You've come to the right place!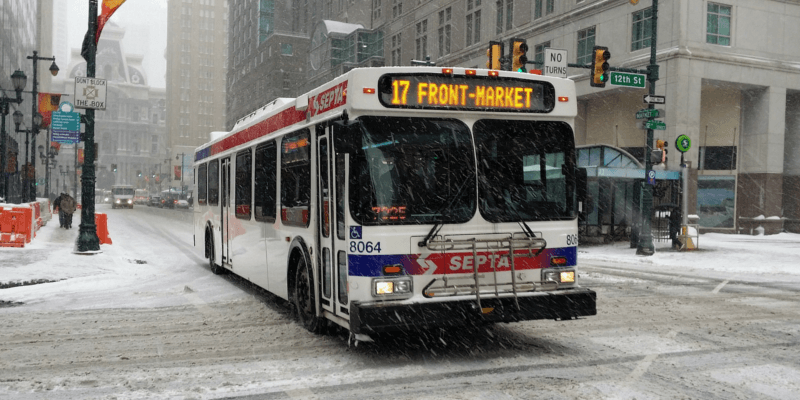 First off, transportation. Philadelphia is in Southeastern Pennsylvania, a two-hour drive away from the Big Apple, and a three-hour drive from the Washington D.C. Flights all along the Eastern seaboard, from Portland to Miami, are less than three hours.
Philadelphia is known for its colossal, neoclassical 30th Street Station, from which you can catch SEPTA (Southeastern Pennsylvania Transportation Authority) buses and rail lines to all of Philadelphia and its suburbs, as well as Amtrak trains to all major coastal cities.
The New Jersey Atlantic City Line, which runs across North Jersey, and buses operated by NJ Transit make commuting to New Jersey from the city pain-free and affordable.
Want a weekend getaway away to another city? Empty pockets? No problem, outside of the station is a Megabus bus stop, where bus tickets to NYC, Baltimore, Boston, etc. can be as low as $1 (typically under $10).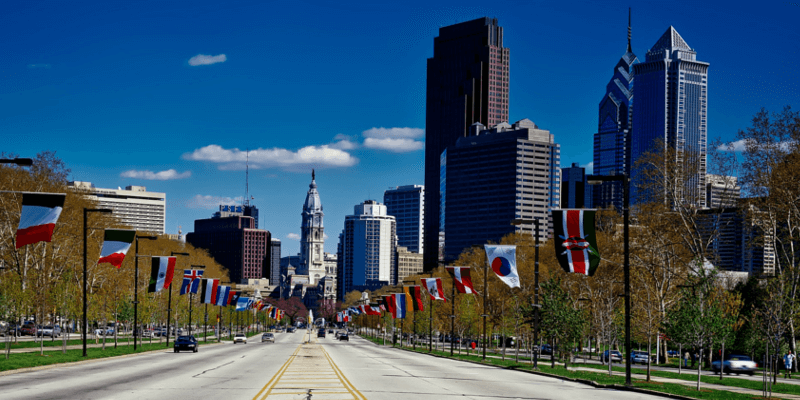 Philadelphia is a booming hub in academics, boasting 450,000+ college students in the metro region, the fifth highest in the nation. Some of the most prestigious schools inside the city include the University of Pennsylvania, Temple University, Drexel University, and Saint Joseph's University. 
In the suburbs are other top-tier colleges including Villanova University, Swarthmore College, Haverford College, and Bryn Mawr College.
Philadelphia is emerging as one of the nation's leaders in biomedical research and medicine, with six schools of medicine and more than $252 million in National Institute of Health grants! The schools of medicine are Drexel University College of Medicine, Perelman School of Medicine at the University of Pennsylvania, Sidney Kimmel Medical College at Thomas Jefferson University, Temple University School of Medicine, and the Philadelphia College of Osteopathic Medicine.
In Philadelphia, there is always something to do. The Philly nightlife is well-known for being one of the best. Philly is known for its Irish bars, including Mac's Tavern, a rendition of Paddy's Pub from the hit show It's Always Sunny in Philadelphia, which is actually partially owned by Rob McElhenney and Kaitlyn Olson (Mac and Dee from the show).  Here's a list of 50 of Philly's "best" bars.
Some of Philly's most famous restaurants include Parc, The Love, and Talula's Garden. Looking for something slightly more rustic? Say hello to the Reading Terminal Market, one of the country's largest public markets. Home to over 100 merchants selling anything from fresh fish to authentic Indian food, the Reading Terminal Market is famous for its fresh flavor and savory feel.
Philadelphia is a global hub for music, art, and history. With a rich national heritage and unique culture, there is much to participate in before you can call yourself a Philadelphian.
During the summer you can burn some calories by trekking up the famous "Rocky" steps of the Philadelphia Museum of Art *cue Rocky music.*
In January you can watch the world-famous Mummers Parade, a parade composed of groups of street performers elaborately emblazoned with wild colors and squawky instruments to compete in one of four categories: comics, fancies, string bands, and fancy brigades.
Car enthusiast? In February you can check out some sweet rides at the annual Philadelphia Auto Show; with over 250,000 attendees, it is one of the largest auto-shows in the world! 
In March, you can enjoy the sweet scent and scrumptious selfies provided by the largest indoor flower show in the world, the Philadelphia Flower Show!
Fan of Japanese art, culture, or cuisine? April is the annual Cherry Blossom Festival in Fairmount Park, a week-long celebration of Japanese culture. The park boasts some 1,600 cherry blossom trees, given by Japan in 1926 as a gift of goodwill for the 150th anniversary of American Independence. Whether it's listening to Taiko drums, participating in cosplay, or enjoying authentic Japanese food, there's fun for anyone!
Philadelphia sports fans. We've all heard the horror stories of their revelry, their ignorance, and their rudeness.
Turns out the curse of Billy Penn, which began in 1987 when One Liberty Place was constructed and exceeded the height of William Penn's statue atop City Hall in Philadelphia, prevented all sports teams from winning championships for almost 20 years until the 2008 Phillies won the World Series.
Can you really blame a whole city for being a little rowdy after being cursed for 20 years? Curses are a serious thing, haven't you watched Pirates of the Caribbean?  Oh yeah, forgot to mention one thing, Philadelphia is home to the current NFL Champions: the Eagles!  E-A-G-L-E-S Eagles!
Not an Eagles fan? No problem, you benefit too. Winning the Super Bowl can lead to an economic and morale boost for the entire city!
What are you going to do with all this new cultural knowledge of Philadelphia? Use it to fact-check your idiot brother-in-law who won't stop talking about the Eagles at this year's Christmas party? Lame. Come give Philly a try!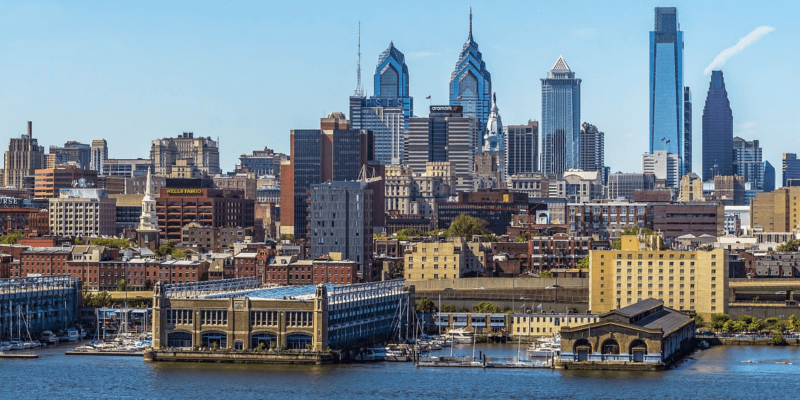 Seriously considering visiting Philadelphia? Then you should check out NativX! NativX gets you in touch with the Natives of Philadelphia! Tired of visiting all the touristy spots in the city? Want to find places where actual Philadelphians spend time? Check out NativX!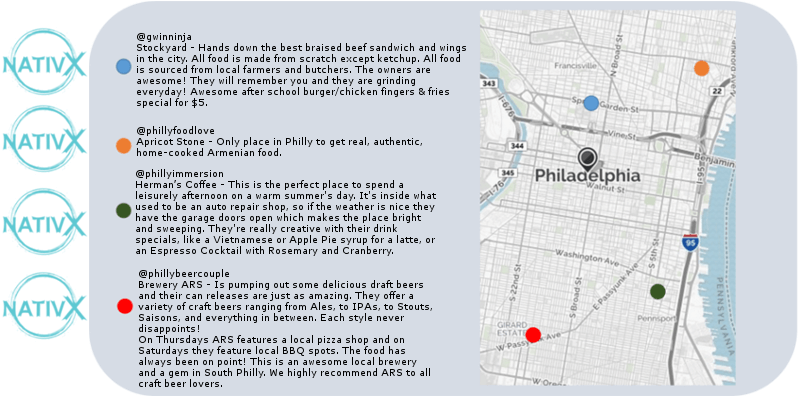 "Looking for a truly authentic Philly experience during your next visit? NativX provides you with suggestions of restaurants, coffee shops, bars, and much more from the "Philly Natives" who know best. No more conflicting reviews or paid advertisements that lead you to the tourist traps. Just the places you want to experience with none of the hassles! Think of it like having a friend from Philly telling you all the places you'll enjoy the most."
Check out the NativX website or download the iOS app for your next Philly visit!